Pixy2 Camera
Save

Liquid error (product-badge line 32): Computation results to '-Infinity'

%
£55.19
inc VAT
£45.99
ex VAT
Robot vision made easier
Pixy2 is smaller, faster and more capable than the original Pixy.  Like its predecessor, Pixy2 can learn to detect objects that you teach it, just by pressing a button.  Additionally, Pixy2 has new algorithms that detect and track lines for use with line-following robots.  The new algorithms can detect intersections and "road signs" as well. The road signs can tell your robot what to do, such as turn left, turn right, slow down, etc.  And Pixy2 does all of this at 60 frames-per-second, so your robot can be fast, too.
Connect directly to Arduino or Raspberry Pi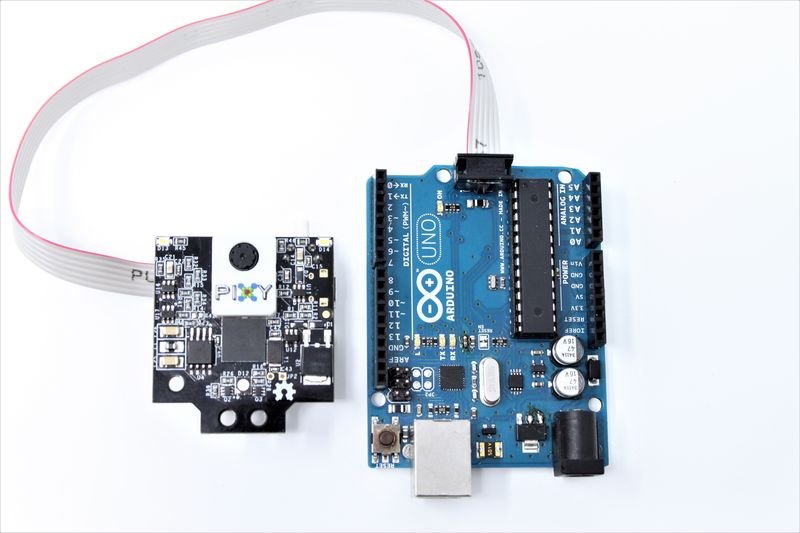 No need to futz around with tiny wires — Pixy2 comes with a special cable to plug directly into an Arduino and a USB cable to plug into a Raspberry Pi, so you can get started quickly.  No Arduino or Raspberry Pi?  No problem!  Pixy2 has several interfaces (SPI, I2C, UART, and USB) and simple communications, so you get your chosen controller talking to Pixy2 in short order.
Simplify your programming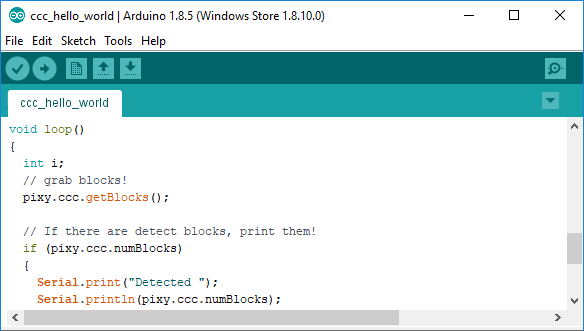 To get you up and running as fast as possible, they offer software libraries for Arduino and Raspberry Pi.  Pixy2 makes your programs simpler by only sending the data you're looking for.  For example, if you teach Pixy2 a purple object, you will only receive data (X-Y coordinates, size, and unique ID) about the purple objects that Pixy2 detects.
Open software and hardware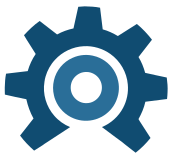 Want to dig deeper?  Pixy2 is entirely open-source — software, firmware, and hardware.
Pixy2 is the second version of Pixy. It's faster, smaller and more capable than the original Pixy, adding line tracking/following algorithms as well as other features. Here's what we've added to Pixy2:
Pixy2 detects lines, intersections and small barcodes, intended for line-following robots
Improved framerate – 60 frames-per-second
Tracking algorithms have been added to color-based object detection
Improved and simplified libraries for Arduino, Raspberry Pi and other controllers
Integrated light source
And of course, Pixy2 does everything that the original Pixy can do:
Small, fast, easy-to-use, low-cost, readily-available vision system
Learns to detect objects that you teach it
Connects to Arduino with included cable. Also works with Raspberry Pi, BeagleBone and similar controllers
All libraries for Arduino, Raspberry Pi, etc. are provided
C/C++ and Python are supported
Communicates via one of several interfaces: SPI, I2C, UART, USB or analog/digital output
Configuration utility runs on Windows, MacOS and Linux
All software/firmware is open-source GNU-licensed
All hardware documentation including schematics, bill of materials, PCB layout, etc. are provided
60 frames per second
What does "60 frames per second" mean? In short, it means Pixy2 is fast. Pixy2 processes an entire image frame every 1/60th of a second (16.7 milliseconds). This means that you get a complete update of all detected objects' positions every 16.7 ms. At this rate, tracking the path of falling/bouncing ball is possible. (A ball traveling at 40 mph moves less than a foot in 16.7 ms.) If your robot is performing line following, your robot will typically move a small fraction of an inch between frames.